When it comes to protecting our families, we all want only the best. Why not invest in the best generator to keep the lights on when storms take out the power? At Penco Electric & Generators, we sell the Generac Series of generators, including the Guardian automatic generator. We have every series from the Core Power to the Guardian Series from which to choose. We don't make you choose by yourself, however. We offer a free in-home estimate where our highly trained technician will walk you through what you need to do and what generator is best for your home and suit your needs.
We believe in the Generac Series so strongly because they were the first to invent the home generator. They are also number one in the industry of home generator providers. They offer affordable options that will suit everyone's budget and we pass those savings on to you. That's why for 25 years, we have provided quality services to the residents of Glenview and the surrounding areas, so you can protect your loved ones with not only our generators, but our electrical services as well. These generators also come with a free in-home estimate to see what needs to be done. Let us protect you and your family from the storms that hit the area every year by providing the generator that will give you power when the lights go out.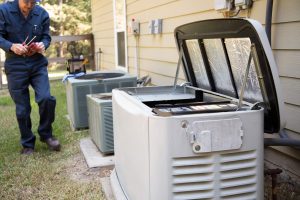 Licensed, Bonded and Eager to Serve
When it comes to Generac generators sales, we have a wide selection of backup generators and standby generators to show you. However, we can show you we are licensed, bonded and eager to serve you as well. Our company is well-respected and well-known to the residents of Glenview and the surrounding areas we serve. We have testimonials from clients on our website that testify to the fact we are family oriented and have great customer service skills. Our highly trained technicians can handle generator installation, maintenance and repair services after you choose a generator.
We Handle Generator Installation
When you purchase your generator from us, you are entering into a relationship that will last. Not only do we sell you the generator, but we will make arrangements to install it for you. Our tech will come to your home at a time you set so you don't have to waste part of your day waiting on him to arrive. He will install your generator with a smile and your home will be as clean as it was when he got there. Once the installation is complete, you will be offered one of our affordable maintenance plans, so we can keep up with maintaining your generator for you. In this way, you won't forget and have to call us out for repairs when you need your generator the most. Contact us for all your generator needs!