Once you've purchased your Generac generator from Penco Electric, you will be a part of our generator maintenance plan to ensure your unit is ready to run whenever it's needed. Preventative maintenance through regular servicing reduces your chances of needing emergency generator services. Routinely running your unit and inspecting it for wear will help save you from expensive damages in the future and will make sure your power works during emergencies.
Why Perform Generator Maintenance?
Generator maintenance protects you from being without power during emergencies. Though it may seem easier to install a generator and wait to use it until a power outage, not regularly servicing your unit can mean costly damages or an unusable unit in the long run. Well-maintained generators will last for many years and will be ready to go whenever a power outage occurs.
Performing generator checks and routine maintenance can help:
Increase generator efficiency: Clearing debris, animals and other blockages allows your unit to function exactly as intended, with maximum efficiency.
Stop generator problems early: Catching minor issues early prevents problems from compounding later on and causing your generator to fail when you need it.
Preventing engine seizing: If the engine oil and air intake are poor and fuel has difficulty reaching the engine, the machine can overheat and the pistons can melt or blow out. Seized engines typically make generators unusable.
In addition to these benefits, checking generators regularly prolongs the lifespan of the unit and will save you from spending money on a new generator too soon or on expensive replacements and fixes.
What Happens During Generator Maintenance
You will generally receive a generator maintenance schedule from the unit's manufacturer — this will serve as a guide for roughly when generator maintenance should occur. To prevent safety hazards or damage, you should always contact a professional to perform proper generator maintenance, but you can take regular precautions with your generator to prevent any issues.
Weekly Generator Checks
For a generator, you can perform weekly checks to help spot any issues. For weekly checks, be sure the generator is clear of debris and do a visual check to watch for damage to the lines from animals. Also, make sure the circuit breaker is closed and the generator is in "auto" mode for easy start-up. If you see any problems with the generator or its components, call an expert to service your unit to prevent further damage.
If problems occur with the generator or its components during inspections, call a Penco technician to make the required repairs for your unit.
Bi-Annual and Annual Generator Maintenance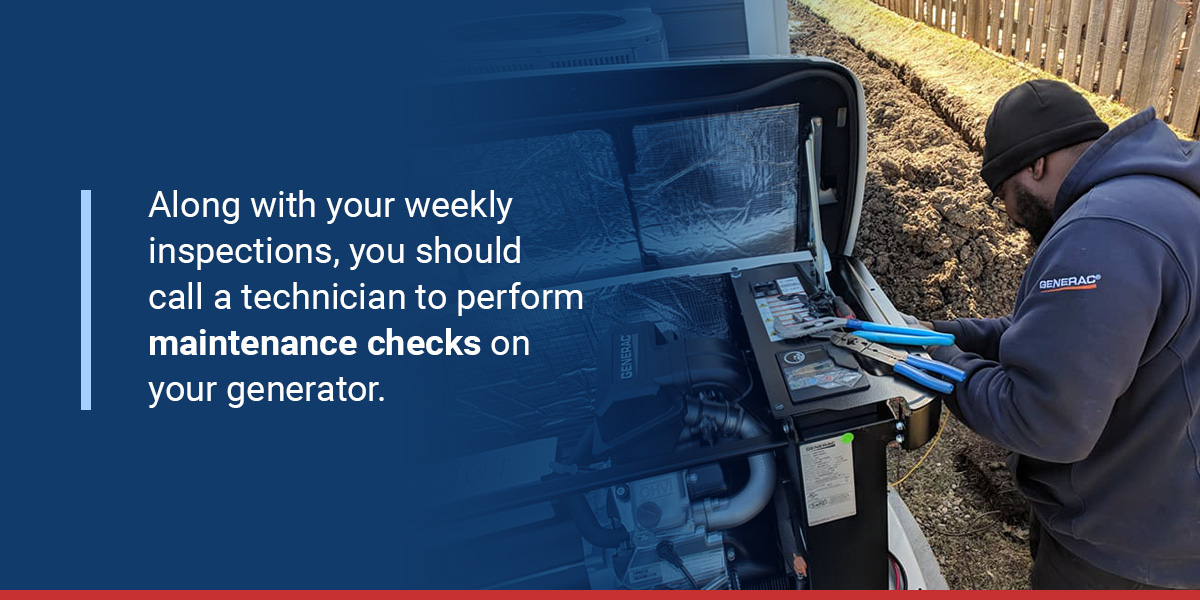 Along with your weekly inspections, you should call a technician to perform maintenance checks on your Generac generator. These services are much more in-depth than weekly looks and require professionals to maintain and handle the different inspections of the unit.
Bi-annual servicing for components that don't need weekly checks includes:
Checking for oil and fuel leans and inspecting system connectors and hoses.
Inspecting coolant heater, lines and connections.
Checking air cleaner units and cleaning if necessary.
Evaluating muffler, exhaust system and exhaust pipe.
Examining battery, battery cables and connections.
Inspecting drive belts.
Check air induction connections and piping.
Inspecting AC accessories and wiring.
Examining DC electrical system and control panel.
Annual servicing focuses on unit features that can go longer without maintenance and includes:
Changing spark plugs.
Performing load bank testing.
Changing the fuel and air filters.
Changing oil and filter.
Flushing the coolant system.
Checking coolant concentration.
How Often Should I Service My Generator?
Servicing units can vary based on a variety of factors, including frequency of use and the climate and conditions around the generator. Because generators require regular performance checks, it can be difficult to stay on top of all the necessary inspections. To help with this, consider implementing a quarterly, bi-annual or annual maintenance plan with a licensed technician to ensure your generator receives the care and service it needs.
Depending on whether your unit is an emergency generator, service checks will be different. For standby units, especially whole house generators, inspections should occur every six months to one year or every 400 hours, if you use them frequently. Technicians will perform a thorough servicing of the unit, looking for filters that need replacing, changing spark plugs and checking the parts for damages and leaks.
For emergency generators and other units you use less frequently, servicing can occur every two to three years. Professionals will check oil, replace seals and components and ensure the machine is functioning properly.
Generators wear down more quickly with frequent operation. Keep a maintenance log to track previous repairs and issues with your unit. Additionally, make sure you're keeping up with generator servicing to get the most use out of your unit.
When well-maintained, a generator can last over 3,000 hours if regularly serviced. To get the best function and value out of your unit, set up a servicing plan with a generator technician.
Tips for Generator Maintenance
Inspecting generators takes time from your schedule. When checking unit functions, use these tips for convenient generator upkeep:
Remove debris, plant growth, small creatures, snow and other obstructions from on and around the generator.
Before you refuel, turn off gas generators and let them cool to reduce the chances of igniting the fuel.
Always run the generator outside for safety.
Properly house your generator to protect it from dirt and debris.
Avoid overloading your unit to prevent damage.
After a power outage, always visually inspect your generator for issues.
Make sure the generator is set to "auto" for automatic start-up and check that the circuit breaker is closed.
Repair and Maintain Your Generators With Us Today
Ensure that your generator is always operational with Penco Electric & Generators. Our qualified Generac technicians will provide you with top-notch maintenance and repair. Don't have a generator yet? We can help you choose and install the perfect, high-quality Generac generator for your home.
Interested in using innovative technology to improve your home? We offer smart home installation services to make your home more convenient at the touch of a button. Contact us today for questions about our services and pricing.