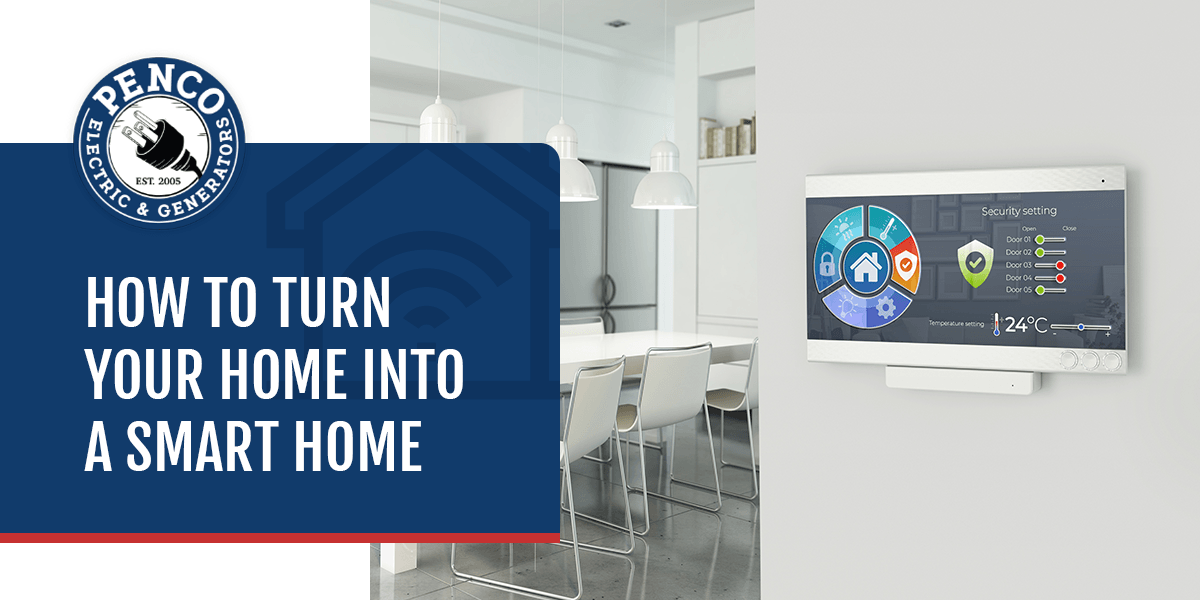 Smart technology is undeniably becoming part of our lives, offering convenience and valuable insights to make our days easier. From phones to cars, smart technology has proven to be an effective innovation that's only growing in popularity. With advancing technology like smart TVs, thermostats, refrigerators and locks, another trend has arrived — smart homes.
What Is Smart Home Automation?
Smart home automation refers to a system in a home that controls appliances on a network. Instead of manually flipping lights on or setting the thermostat at a certain temperature, you can access those appliances via a remote or phone and set schedules. For example, you can set your lights to turn off when you leave for work and to turn on when you arrive home. There are numerous other opportunities for implementing easy home automation, too.
Smart home automation offers the simplification of your daily routine, freeing you up to focus your energy on other tasks while your smart home follows your routines and tendencies.
How Do Smart Home Systems Work?
The operations of a smart home might seem complex, but the general idea is relatively straightforward. All of the smart devices in your home are connected to your home via a wireless network, and through that network, you can control your devices.
Since smart technology is set up via the internet, you'll need a strong WiFi connection, smart products and a device — such as a phone, tablet or laptop — that lets you control those appliances with a tap of a button.
In most cases, the smart system is connected to a central console so you can access all appliances through one central network. The automation works together to give you a full picture of your home with the ability to control various aspects at any given time.
What Can I Automate in My Home?
Technological advancements have allowed nearly every appliance in a home to be automated. We often think of obvious examples like TVs, but smart technology has expanded to many different realms of the household.
Here are just a few systems you'll be able to control and schedule in your smart home automation system:
Thermostats: Set temperatures from your couch and create schedules to suit your daily routine via a smart thermostat. You'll be able to make it colder when you go to bed and warmer when you wake up with a few taps on your smartphone. Smart systems can track your habits and cater to the temperatures you like at certain points in the day.
Lighting: Schedule times for your lights to come on when you get home or turn them on before you walk in the door. In some cases, your smart system will know when you're close to home and automatically turn the lights on.
Locks: Smart technology lets you know if you remembered to lock the doors after leaving for work. Are you already comfy in bed about to fall asleep but forgot to lock the front door? Just pick up your phone and tell your smart system to do it.
Audio systems: Do you like playing music throughout your house? Using a smart audio system makes entertaining even easier, whether you're inside or outside.
Smoke detectors: Smart technology can even enhance smoke detectors. No matter where you're located, you can look at your phone to see notifications from your smoke detectors, whether they're indicating a low battery or a fire.
Security cameras: Check and see who has come and gone in your home and get alerts when someone comes to your door with a smart security camera.
Blinds: Watch your blinds automatically open at sunrise and close at sunset.
A professional service can help with the smart home installation process and show you how to automate your house.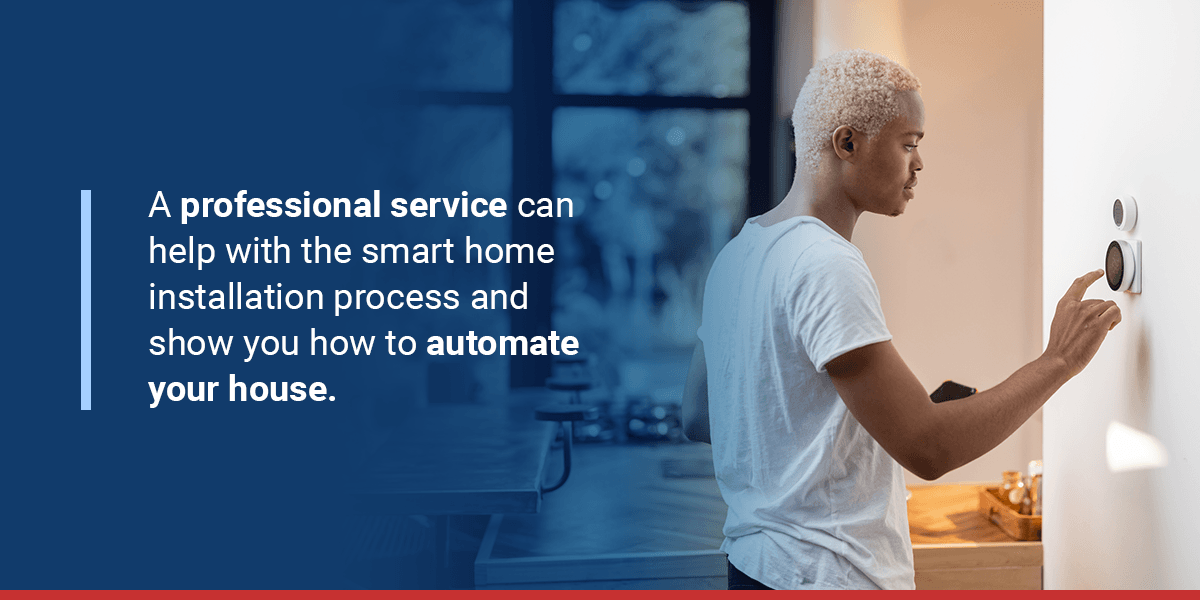 What Are the Benefits of a Smart Home?
Even before you look at how to automate a house, you could be curious about the advantages of a smart home, which include:
1. Convenience
Smart home automation offers you the ability to make your daily life much more convenient and specifically suited to how you live. Here are a couple of strategies that will let you get the full potential out of your smart home system:
Set schedules: Schedule your thermostat, lighting and locks for certain actions throughout the day that will suit your needs. Automating simple but necessary actions will save you time and effort.
Streamline your day: Forgetting to lock doors and turn off the lights can mean making extra trips and interrupting the flow of your day. Smart automation systems allow you to streamline tedious actions while removing stress and worry.
2. Safety
It's easy to forget to lock up your home — smart technology recognizes that and lets you control the security of your home from afar. Use smart cameras to stay alert of anyone going in and out of your home and gain confidence in the protection of your house.
3. Energy Savings
In a smart home, appliances will be able to identify energy savings and ways to save you costs. The system will pick up on your daily routines and can turn lights off, lower temperatures and more necessary.
4. Home Insights
You'll be able to gain useful knowledge about how you use your appliances and can find ways to save money or plan your day more effectively. With a full picture of your home's appliances, it'll be much easier to see how you can optimize for the best efficiency.
5. Control
As a homeowner, you can often feel like you're falling behind on many of the daily tasks and maintenance your home requires. There's a lot to keep track of, and a little help can go a long way.
A smart home gives you a sense of control, allowing you to keep track of various operational aspects with the press of a button. Stay better connected to energy usage, keep track of safety aspects and improve the flow of your day with some helpful insights from your smart home system.
It's the organized, easy solution you need to gain some control over your daily routine and stay ahead of your to-do list.
Should I Get Home Automation?
After looking at all of the benefits of smart homes, you might be looking at automating your own house. If you want convenience, better security, energy savings and valuable home insights, then a smart home system is a great choice.
Automate Your Home With Us Today
Penco Electric & Generators can offer you easy home automation, showing you how to make your home a smart home and giving you everything you need to take advantage of modern technology.
We'll design, install and integrate your smart home system using reliable and quality technology. Access your smart appliances through an easy-to-use app and start enjoying all the advantages of your smart home.
Contact us today!